Rural Property Service Collaboration Portfolios
The Owen Farm Services team is very pleased to announce a collaboration with Wallets RPS. On sale days we will be based at Wallets Mart, Castle Douglas to provide IACS support and advice. For any rural support, do not hesitate to come and visit us. – We can be found in the main office of the Mart.
---
Dairy fair
Owen Farm Service will be attending the Borderway UK Dairy Expo on March 12 at Carlisle Market.
We are excited to be back at shows and events.
Be sure to come by our booth for a coffee and learn more about our services and how we can help you with your agricultural advisory needs.
---
5|Agri
Owen Farm Services is a member of the 5|Agri Group.
5|Agri is an alliance of agricultural consultants, who are a group of like-minded people with over 100 years of consulting and advisory experience. These 5|Agri members are regionally based and can therefore cover a large part of the UK. The co-founders of 5|Agri also participated in the creation of the Agri Ignite tool platform. It was created to help farmers become more efficient through the use of technology. Currently, 5|Agri works with AHDB to provide agricultural business reviews to farmers in England. These reviews, funded by DEFRA, aim to help farmers understand the changes to the basic payment scheme.
If you are based in England and would like to take advantage of this service, please contact us.
Email: info@5agri.co.uk
Phone: 01461600540
---
AHDB Webinar
For those who missed this online webinar, there is another opportunity to watch "AHDB Dairy: Potstown Strategic Dairy Farm Launch" by following the link below.
https://register.gotowebinar.com/recording/viewRecording/5306806482742579469/5668096109373215239/natalie@owenfarmservices.co.uk?registrantKey=388767938828075531&type=ABSENTEEEMAILRECORDINGLINK
This webinar has been created to celebrate the launch of AHDB's new strategic Scottish dairy farm calving all year round, located at Potstown Farm (where our office is based).
In this webinar, Gareth and David Owen offer a virtual tour of their farm and provide insight into its background, operations and the team involved. This video contains an overview of the farm's technical performance against key performance indicators (KPIs) of the optimal dairy system and details on their long-term vision for the business.

Gareth and David also take a critical look at areas that have been identified for improvement over the next few years.

This includes exploring opportunities for expansion and maximizing cow and heifer performance by examining:
• Housing for young animals
• Calf health
• Improve fertility
• Improve mobility within the herd
• Maximize the use of genetics
• Maximize forage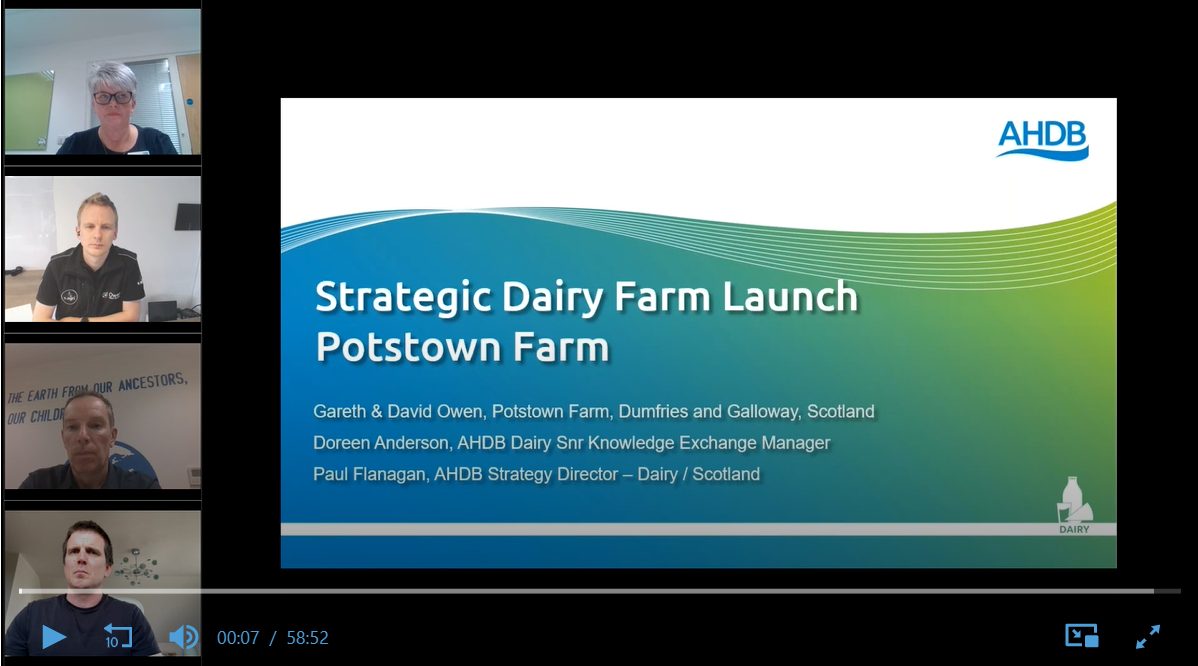 IACS phone calls
With spring around the corner, we'll be in touch with you about IACS 2022. The first phone calls will take place in the coming weeks – so keep an eye out for us to call you.
If you would like us to fulfill your IACS application, please contact us to discuss the possibilities.
Grant programs
Owen Farm Services helps clients complete applications for available programs. Below are two deadlines that are open/will open soon:
Agri-environmental climate scheme (AECS)
The AECS application window is already open for applications. The deadline for this program is Friday, April 29, 2022. To discuss options or if this program may apply to your farm, please contact us and we can help you with your application.